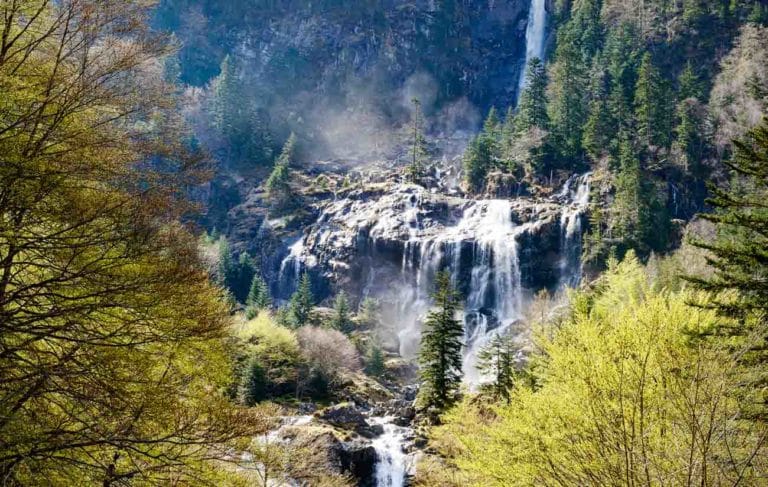 When the summer is hot, it is nice to cool off in the spray of a waterfall. This is a good thing, because in the regional park of the Ariège Pyrenees, one of the most beautiful waterfalls in the Pyrenees awaits you. The Ars waterfall. A walk not to be missed during your holidays camping holiday in Ariège. At 246 metres high, it is indeed a giant misting machine!
---
A selection of campsites near the Ars waterfall.
---
A waterfall that must be earned
Nestled at the bottom of a valley at 1380, the Ars waterfall is a waterfall that must be earned. It can only be reached after a 4-hour round-trip walk and a 600-metre climb. And yes, we are in the mountains! It is necessary to foresee walking shoes to go and admire this beauty which is longed for. The route starts in the thermal village of Aulus-les-Bains, in the Garbet valley. You will find a car park near the tourist office. The path is pleasant and offers nice views well before you reach the Ars waterfall. Although it is a steep climb, the hike is accessible to all, provided you are well equipped and walk at your own pace. Even though the trail is mostly shaded, after 2 hours of hiking, you will love the spray from the waterfall. A real refreshing shower!
The Ars waterfall is divided into three levels. It first cascades down the mountain in a fairly narrow waterfall before widening and forming curtains on the rocks on the next two levels. Spectacular from a distance, it is well worth getting close to. It is at its feet that it expresses all its power.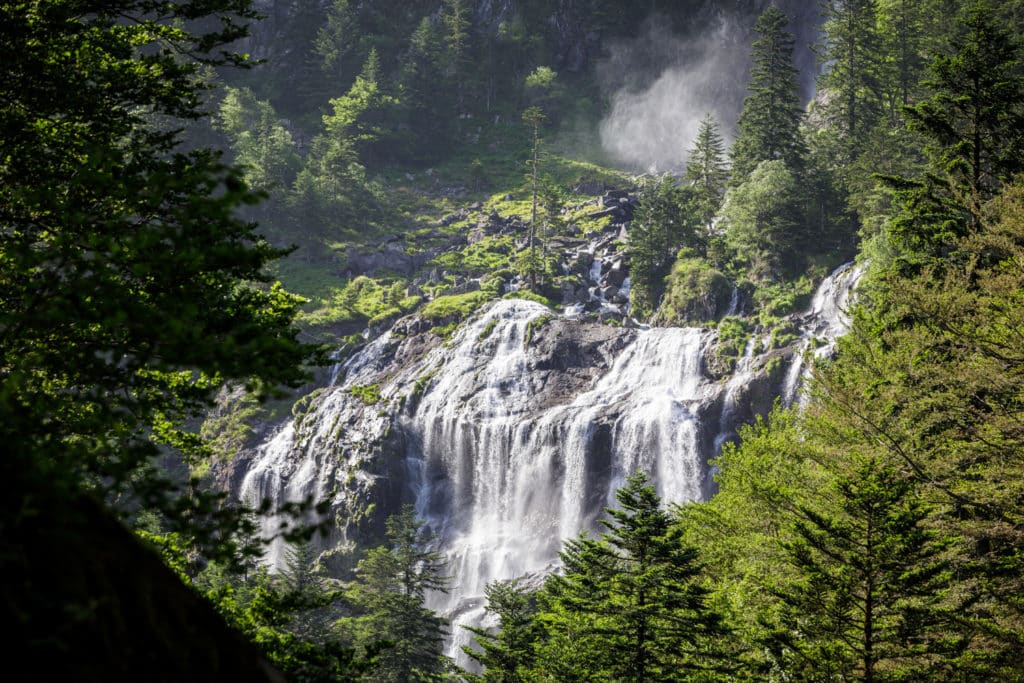 A waterfall at its best in spring
Like many waterfalls, the Ars waterfall is at its most beautiful in spring, when it is fed by the melting snow from the Pyrenean peaks. If you have the opportunity to stay on a campsite in the Ariège at this time of year, take the chance to admire it at its peak. However, even if you come to the Ariege during the summer, the Ars waterfall remains spectacular in all seasons.
Our campsites in Ariège near the Ars waterfall
A selection of campsites around the Ars waterfall for a holiday in a motorhome, tent or caravan.