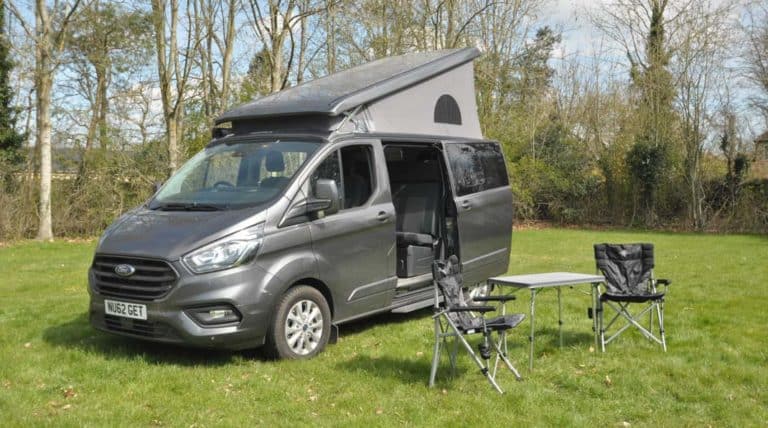 Nick Harding ventures out in a campervan that Ford can call its own
Volkswagen does it with the California. Mercedes with its Marco Polo. So, why shouldn't Ford have a crack at the campervan market with a vehicle that its selling via its own dealer network? Whilst the Nugget has been pushing forward in Europe, here in the UK it's a later start – or rather, re-introduction – but nevertheless it's a credible alternative to other campers already out there.
The Nugget is made for Ford by long-term campervan conversion specialist, Westfalia. Its floorplan remains the same as when the first Transit-based Nugget was produced, over a quarter of a century ago, and it deliberately steers away from the conventional side furniture unit/rear seat-bed formula.
Where the Nugget does score over its rivals is its provision of five permanent travel berths – three of them on a single forward-facing rear bench seat. Sliding doors on each side also offer an extra degree of practicality.
The elevating roof is front-hinged, too, to allow optimum headroom where it's going to be most needed – at the kitchen unit that's across the back immediately behind the lounge area.
You can access the kitchen zone via the tailgate or by a slight squeeze around the travel seat. There's certainly plenty of standing room here once the elevating roof is up (a simple enough operation) and there's even a fair amount of permanent work surface on and around the two-burner hob, separate circular sink and top-loading compressor fridge. The provision of a hot water system will be welcomed by many, too.
Another bonus is having the facility to sleep in either of two double beds – up in the roof or by converting that rear seating, albeit floor space is necessarily severely restricted when the latter is made.
As for the driving experience, it's great – especially if you're lucky enough to go for the more powerful 185PS engine and automatic transmission options.
There is one area where the Nugget noticeably struggles, however, and that's storage. Yes, there are some neat lockers and recesses, but overall there isn't much. On top of that, payload isn't great if you really are considering four-person use.
More on www.ford.co.uk
Key facts
*At the time of writing, the Nugget is available from some 17 Ford retailers in the UK, where prices start at just over £59,000.
*Ford is also set to start selling a larger Nugget here in the UK, complete with plumbed-in toilet facility.
*Westfalia produced its first campervan in 1951. It actually produced its first Ford Transit-based Nugget back in 1985. It has been owned by France's Rapido Group since 2011.
*Key UK rivals to the Nugget include the Autohaus Spartan GT, Wellhouse Misano and Westfalia Kelsey.